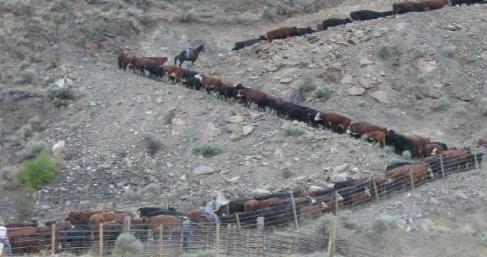 A dream came true for Wilson, thirty two years ago, when Wilson, June, Brad and Wade moved to this ranch.  Brad was 9 and Wade was 5.  Wilson had dreamed of owning a ranch since he was a small boy
.
HISTORY
We began with 80 cows and 3 heifers.  When the boys were young we always rode on Saturday or Sunday to move cattle and took a picnic lunch with us.  It was a family affair – right from the start – a lifetime of memories to cherish.
            We pumped out of the creek for irrigation the first year and didn't raise enough hay to winter the cattle.
            The next year, we drilled our first deep well, 125 feet and seeded our first field.  We now have 3 deep wells and 3 more fields.
            We put in new fences using pressure treated posts that are still standing, 32 years later.
            We sold calves in the fall and kept our replacement heifers and gradually built the herd to 125 head and raised enough hay for feed.
            In 1972 we bought our meadow.
            In 1980 we started to feed our calves on a small scale and then in 1983 we started to feed all our calves on the home lot.
            In 1987 Brad and Wade bought the Barcelo place and we added more pen space. Wilson, Brad and Wade are always looking for new ideas to make the ranch work better and in 1983 were the first to start putting silage in bags, a great product.  We put all our fields into silage and buy all our hay.
            In 1984 – Brad married Dianne Vandenhoek. They have 2 children – John Ross and Marla.
            In 1988 – Wade married Sandra Stewart.  They have 3 girls – Cassie, Trisha and Megan.
            In 1989 we started the B.C. Hereford Bull Test Station.  Today we test Angus, Gelbvieh, Salers and Hereford Bulls.
            At the present time, we run 380 mother cows and background all our calves,
            Brad keeps all the machinery working and Wade looks after the cows on the ranges and Wilson keeps everything and everyone in order.
            Drop in and see us.  We live in the beautiful Similkameen Valley, the greatest place on earth.